ARRIVAL is a revolutionary European technology company who produces electric buses and vans. They are opening their first US headquarters and van factory at the beginning of 2022 in Charlotte, NC. Nearby they are also opening a bus factory in Rock Hill, SC. These vehicles are not like your average vans and buses. They are built modularly from the ground up in micro factories using a smart robotic assembly of composite materials that are designed to be circular within a repair, reuse, and recycle model.  
The build consists of an adjustable skateboard platform design that can be customized for all vehicle sizes and a fully recyclable composite material developed in-house that decreases the weight of the vehicles while enhancing the durability of these crash resistant panels. There is no use of paint shops, which is great for the vehicles and the environment, because the paint is embedded into the material. Micro factories allow what typically takes years to construct to be done in 6 months or less, all while sourcing from the local area and developing for the region they are within. The efficiency of a micro factory enables ARRIVAL to continue to grow as demand grows, while the localization of the supply chain reduces the environmental impact. These factors combined regarding material usage, robotic assembly, and micro factory implementation allow for a smaller carbon footprint, easier repair job, lower cost of total ownership, and rapid worldwide deployment.  
In North America, ARRIVAL uses SAE J1772 plug types for AC charging and CCS1 plug types for DC charging. The vans are compatible with AC and DC charging as they are equipped with an 11kW AC onboard charger and can DC fast charge up to 120kW. This enables the vehicle to be charged anywhere from a lower power AC outlet at home to a designated DC charger. 
The use of digital products permits ARRIVAL vehicles to connect to the world with commercial operators and advanced telematics to help analyze vehicle data, track fleet routes, and respond to alerts in real time. They have been working with small business owners and essentially anyone who can use a van.
ARRIVAL combines sustainability, efficiency, and affordability through pricing their vehicles competitively with fossil fuel equivalents which will lead to an expected lower cost of ownership. There will be more information regarding specific price points released soon. 
Four Different Vehicles to Reach the Market by 2023: 
1.) Bus  
Year- 2021

 

Range- 149-249 miles

 

Payload- 80-125 passengers

 
2.) Van 
Year- 2022

 

Range- 93-211 miles

 

Payload- 2,150-4,409lbs

 
3.) Large Van 
Year- 2022

 

Range- 118-249 miles

 

Payload- 8,818lbs

 
4.) Small Vehicle 
Year- 2023

 

Range- 62-186 miles

 

Payload- 992-1,764lbs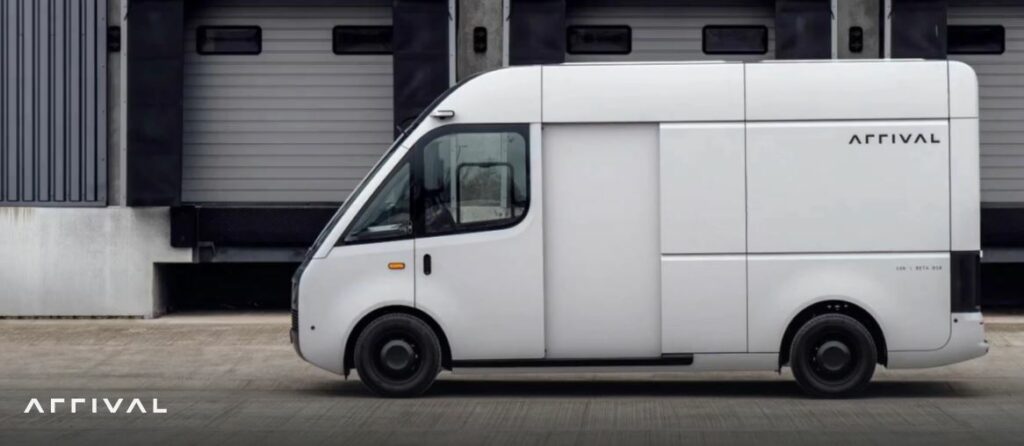 Read More