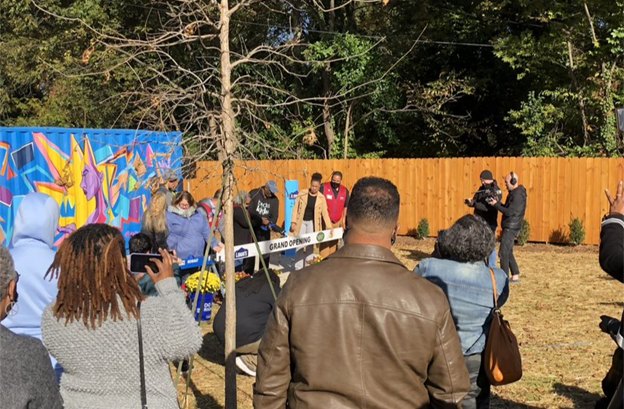 This past Saturday, November 6th 2021, The Ritz  at Washington Heights held its ribbon-cutting ceremony and officially opened. The Centralina Clean Fuels Coalition, along with representatives from UNC-Charlotte, the City of Charlotte and Duke Energy, proudly attended the ceremony and joined the celebration. The park site was historically occupied by the Ritz Theater, a segregation-era Black theater that the park is named for in an effort to honor the community's history. The project of opening this park where the former Ritz Theater sat vacant was chosen from more than 2,000 entries to the Lowe's 100 Hometowns Grant. Lowe's awarded millions of dollars to 100 unique community projects across the U.S in celebration of the company's 100th anniversary. The Ritz project received $200,000 from Lowe's to complete the park, along with a $25,000 contribution from the Washington Heights Neighborhood Association and a $50,000 contribution from the City of Charlotte's Corridors of Opportunity program.  
The park is located at 1201 Beatties Ford Road, and this also marks the spot where a PoleVolt curbside electric vehicle charging station will be constructed in the coming months. The PoleVolt charger is part of a US Department of Energy (DOE) pilot effort to explore the challenges and opportunities for introducing curbside electric vehicle charging infrastructure into communities nationwide. As electric vehicle ownership becomes more accessible, charging solutions for electric vehicle owners who do not have access to in-home charging infrastructure are becoming increasingly vital. The product of a three-year partnership between the UNC-Charlotte Energy Production and Infrastructure Center (EPIC), the City of Charlotte, Duke Energy, and the Centralina Clean Fuels Coalition; PoleVolt represents both technological innovation and the increasing importance of energy equity within the electric vehicle charging market.  
EPIC and Duke Energy began developing the PoleVolt charger prototypes in 2019. The chargers will be powered by existing Duke Energy light poles and include retractable charging cables and dynamic lighting features to indicate charging status. The project team hopes PoleVolt may serve as a scalable solution for curbside charging efforts in Charlotte and beyond. The multi-year effort to execute the pilot program has yielded valuable insights about curbside charging regulations and requirements for communities nationwide. These learnings will be released in the next year in a project report to US DOE by EPIC and the Centralina Clean Fuels Coalition. The project team is also grateful to have partnered with the Ritz project to introduce curbside charging infrastructure to the Beatties Ford Corridor and surrounding community. The area provides not only a creative, culturally significant space for community events but is also a sign of the progression towards broadening alternative fuel access within the City of Charlotte.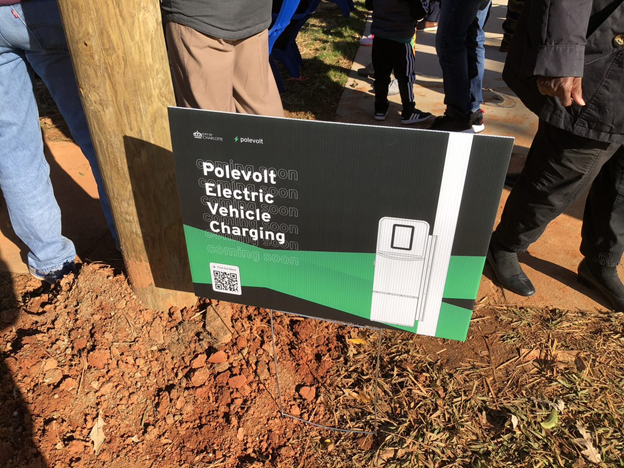 Read More