The North Carolina Clean Energy Technology Center (NCCETC) at North Carolina State University announces the following request for proposals (RFP) through the 2022 Clean Fuel Advanced Technology (CFAT) project. The 2020 initiative will offer $1.4 million, focused on reducing transportation-related emissions, and supported with federal Congestion Mitigation Air Quality funding from the N.C. Department of Transportation (DOT). The primary purpose of the CFAT project is to reduce transportation-related emissions in 24 eligible North Carolina counties. 
Project proposals will be limited, none higher than $300,000 and none lower than $5,000. Applications will be due Monday, August 1, 2022. This will likely be the only solicitation for 2022.
Projects located in the following counties are eligible for CFAT funding: Cabarrus, Catawba, *Chatham, Davidson, Davie, Durham, Edgecombe, Forsyth, Franklin, Gaston, Granville, Guilford, *Haywood, *Iredell, Johnston, Lincoln, Mecklenburg, Nash, Orange, Person, Rowan, *Swain, Union, Wake, (*Represents partial counties).
Projects for electric vehicle charging stations (EVSE) will be accepted within all 100 counties.
Available funds: $1,400,000
Maximum per project award: $300,000
Minimum per project award: $5,000
Application deadline: July 1, 2022
Project period: December 5, 2022 – September 30, 2024
Click here for the 2022 CFAT Request for Proposals
Click here for the CFAT RFP FAQs
Click here for the 2022 CFAT Budget Worksheet
Click here for the 2022 CFAT RFP Application
NOTE: Applications should be emailed to CFAT_grants@ncsu.edu. 
View examples of prior successful CFAT project proposals in 2018 and 2019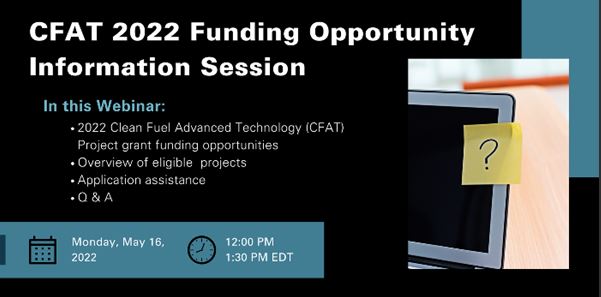 NC Clean Energy Technology Center hosted a CFAT 2022 Funding Opportunity Informational Webinar from 12-1:30pm Monday, May 16, 2022. The webinar featured an overview of eligible projects and had a Q&A session to assist with application submission. To view a recording of the webinar, click the button below.