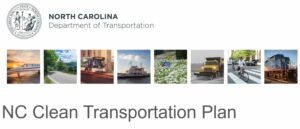 In case you missed the May Clean Transportation Virtual Feedback Meeting, here are the agenda, follow up links, recording and more! Questions? Missing a topic? Contact Megan at mupchurch@centralina.org.
Link to the agenda here.
Recording not playing for you above? Here's the direct YouTube link.
Topics discussed included the NC Clean Transportation plan and what role stakeholders can play in the discussion.
Links included
Upcoming Opportunities for stakeholders include the NC VW Settlement Phase 2 funding categories and EPA Clean School Bus funding program.
Authorized by the recently signed Bipartisan Infrastructure Law, EPA's Clean School Bus Program provides $5 billion over the next five years to replace school buses with low- and zero-emission school buses. The first funding opportunity under this program will be the 2022 Clean School Bus Rebates. EPA will offer $500 million for zero-emission and clean school bus rebates. The EPA's program guidance and a list of eligible/prioritized applicants are now posted on the Clean School Bus Program website. Once you have completed the recommended steps to prepare, please begin filling out your rebate application.
The VW Settlement has upcoming deadlines, so be sure to apply before the opportunity passes!
Finally, the next CCFC stakeholder meeting will be August 23rd. Please be on the lookout for a calendar hold soon or connect with Megan(above) to ensure you're on the list!